Sworn Positions
Minimum Requirement and Application Process
Civilian Positions
Minimum Requirement and Application Process
In addition to the above positions we are also now hiring
SEASONAL/TEMPORARY TAX PHONE ROOM
Duties consist of
Answering phone calls concerning current year tax bills,
Processing tax payment checks,
Researching payment applications and other clerical responsibilities.
Training would be provided however prior experience with answering phones, working with public or cashiering experience would be helpful.
Working hours would be M-F, 8am-4am beginning mid-October thru April 30th.
Parking will be provided.
Applications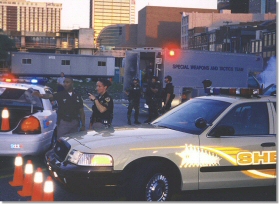 Applications can be picked up at our Office, Monday-Friday 8 AM to 4 PM. You may also download, print and complete the application packet.
Once complete, drop the applications off at our office or mail to:
Col. John Aubrey, Sheriff
Jefferson County Sheriff's Office
531 Court Place
6th floor
Louisville, KY 40202
No e-mail requests accepted.