Reserve Unit
Trained Volunteer Professionals
A Reserve Deputy Sheriff is a volunteer who is a trained, professional, sworn law enforcement officer.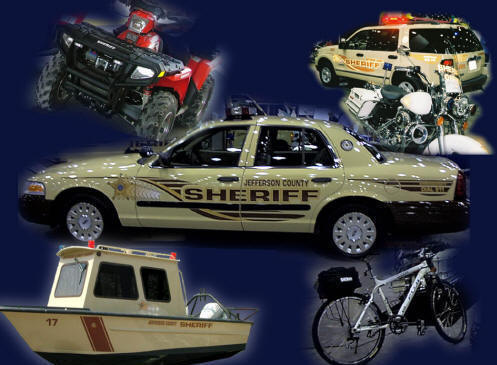 "The opportunity to serve your community as a Reserve Deputy Sheriff is rare and offered only to those who can fit the uniform. Our Reserve Deputies serve in many different areas, including the River Patrol, Motorcycle Unit, Bike Patrol, Street Duty, Court Security and many others. If you are one of the few who can qualify, you will join a diversified team of highly trained men and women. 'Dedicated to Service and Committed to Excellence.'"
Reserve Deputy Sheriff duties
Reserves are the "Back up" for our full-time paid deputies. They work many details throughout the year, including Charitable events, Derby Festival events, and our "Thumbody" Child I.D. program. They serve Warrants, Emergency Protection Orders, Civil Process, work Court Security, direct traffic and much more. They also serve with the Motorcycle Unit, River Unit, ATV Unit, Bike Patrol and Honor Guard.
What's provided?
Ballistic Vest
Radio
Badge
240 hours Basic Training Academy
Medical Exam
Background Review
Continuous Annual Training:

Firearms
In-Service
Use of Force
Legal updates
Specialized Unit Training
What are the Training Requirements?
What are the training requirements?:
140 hours of recruitment training.
40 hours annual in-service training.
Firearms Qualifications - three times a year.
Minimum of 100 hours of annual volunteer time.
A description of the types of training given to Reserve Deputy Sheriffs:
In addition to gaining valuable law enforcement experience, Reserve Deputies are trained on Cultural Diversity, Sexual Harassment, Radio Procedures, Blood Bourne Pathogens, Laws of Arrest, use of Force, Juvenile Procedures, Elements of Arrest, Crowd Control, Traffic Control, Defensive Tactics, Off Duty Tactics, Citation and Arrest Reports, Traffic Stops(Classroom and Practicals), Defensive Driving Tactics(Classroom and Practicals), CPR Certification, Law Enforcement Ethics, Media Relations, Magnetometer Operations, Homeland Security, O . C . Spray, Firearms(Classroom & Range Qualification), Verbal JUDO, PPCT(Pressure Point Control Tactics), Firearms Mechanics, Waterway Survival and Rescue, Traffic Stops - Low / high risk / DUI, Domestic Violence and more.
While providing a service to the community, Reserve Deputies build valuable skills to prepare them for a career in law enforcement and gain the tools to handle many emergency and day - to - day situations.
What are the costs?
Reserve Deputies pay for the cost of the polygraph and psychological examinations.
They also pay for uniform items including weapon.
Total approximate cost = $1500.00
Expenses are tax deductible.
Can a Reserve Deputy work in security?
Reserve Deputies cannot work any paid or volunteer security other than the security details assigned by the Sheriff's Office.